These are the updates released over June 2023. Note that these updates will only apply to sites that have upgraded to Design Builder unless they are marked Legacy and Design Builder.
Image Management
The Image Management development has now been released with a new cropper for creating Thumbnails and the ability to create Mastheads and Social Cards for your images. The separate Thumbnail management is removed - existing thumbnails will still show on the website but for any new pages going forward you will be able to select an existing image from your main library. If that image does not have a thumbnail then the editor will be able to generate a thumbnail for that image.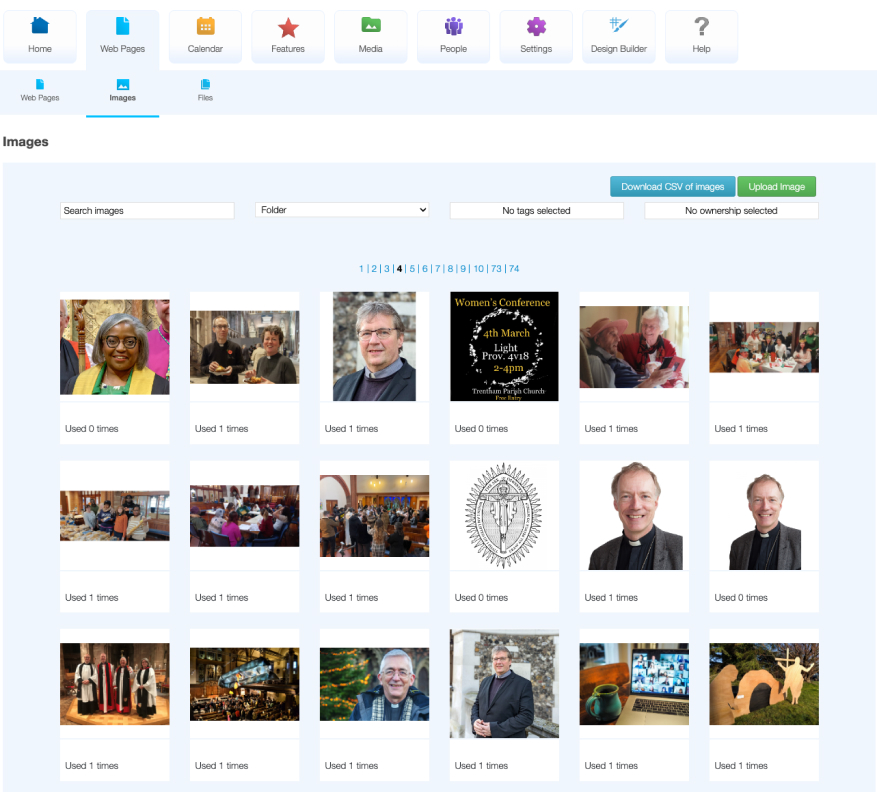 Enabling Social Cards and Mastheads - mastheads only need to be enabled if you want to use this as part of the design and add a masthead widget to your design. Social Cards will mean that any pages shared onto Social Media will use the social card associated with that page (or fall back to your sites default). To enable this go to Design Builder > Design options and Social Cards/ Mastheads
Description - if you want a description added for new images then enable this option for your site in Design Builder > Design Options
Image Refresh - if you want to be reminded when an image should be checked to see if it should be refreshed then enable Image Refresh date within Design Builder Options.
Image Ownership - this will allow you to add who owns the image.
Using tags - if you want to start using tags for categorising your images then go to Design Options > Image Options to enable Tags for Images and then Settings > Tags and toggle on Images for each relevant tag. Tags won't be used on the main site but are just used within Global Office for you to filter out the images.
Naming images - by default, existing images will not have a name so you can go through your library and name images.
Where are images used - the Image Management main page will state the number of times an image is used. Clicking on the image will show the pages these are linked to.
With the new Image Management it means that when adding a page your editors will be able to select an existing image from your whole library and if that image does not have a thumbnail they will be able to crop a thumbnail from the image.
Main Website Updates
Content pages will automatically have a sidebar added unless they are specific Church Edit features like the calendar or audio page which are always displayed full width without a sidebar. We have updated Church Edit so that a folder can be set to be full page without a sidebar. Enabling this option will mean that pages within that folder will take on the 'Content' layout for the Design Builder rather than the 'Content with Sidebar'. To remove the sidebar for a folder go to the Options tab for that Folder.
Different homepage for logged in users - sites that have the member features can now select to have a different homepage for logged in users. This can be any page on the site and is choosen by going to Settings > Site Options (this option only shows for sites that have member logins)
Title Case for menus - if Title Case is selected for menus then it will ignore any characters at the start.
This was the phase4#2 update.
Global Office
Resolved an issue where when clear formatting the Web Editor would sometimes ignore the first paragraph. Legacy and Design Builder.
Design Builder
Up to 5 containers can be added to headers and footers (previously the limit was 3).