January Offer

We hope your New Year has gotten off to a great start and we look forward to continuing to serve the Church with Church Edit throughout the coming year and doing 'Church together.'

The year isn't the only thing that's new! We have a new product and a new January Offer!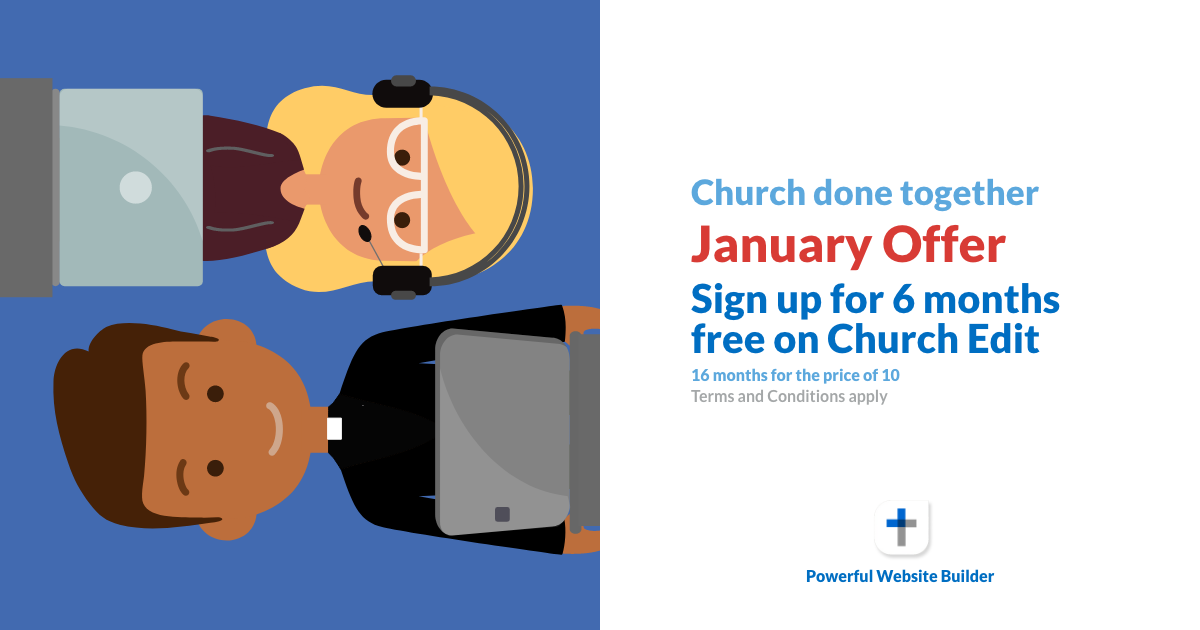 In our commitment to help serve Churches and do Church together, we're running our January Offer where we're giving new customers the opportunity to get 16 months for the price of 10!

In light of our recent updates, this makes our January Offer our best yet! All updates are available to new and existing clients free of charge as standard.

Our brand new Design Builder makes it easy for you to have full control over the design of your website without the need of a professional, by simply dragging and dropping your content wherever you want it and adding your own sense of style. More details on our Design Builder can be found here.

New Customers

Simply sign up in the month of January to get the offer! And then tell your friends!

Existing Customers

Is there anyone you know that would benefit from our January Offer? Please do let them know! If they sign up on your recommendation you can get money off your subscription with our new Referral Scheme.

iKnow Church
Get yourself the whole package and sign up to our sister product iKnow Church for 16 months for the price of 10 as well! iKnow Church is our Church Management System created for Churches of all sizes. Details here.

Whether signing up as a new customer, or introducing new ones and sharing the benefits, with the same goals, we can be 'Church done together.'

Terms and Conditions
*This offer cannot be used in conjunction with any other offer. The offer is only valid to new users of Church Edit, who are not currently paying for a subscription. The annual subscription must be paid upfront to receive the additional free months offer (16 months subscription for the price of 10).